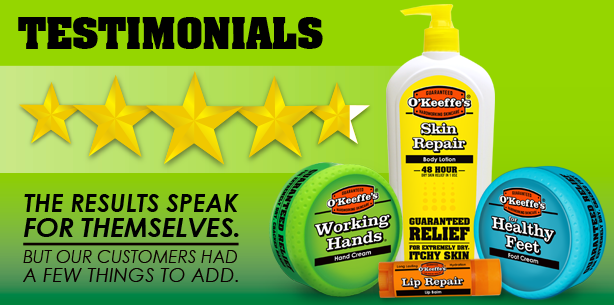 Testimonials and counting!
General
Healthy Feet
Working Hands
My husband's hands would crack and split terribly, especially in cold weather or when he had been working a lot. He was sometimes uncomfortable picking up his knife and fork to eat dinner as his hands were so painful. After numerous visits to his doctor, and various hand creams (all unsuccessful), I decided to research 'the best hand cream' on the internet. O'Keefe's was mentioned on a number of websites and I decided to give it a go. To our surprise, after 3 days, my husband's hands were no longer split and were for the first time (in my knowledge) soft! O'Keefe's truly is wonder cream. I would recommend it to anyone with split or painful hands.
My husband has always suffered terribly with his hands. Dry, cracked, really bad deep splits. He's had lots of prescribed lotions and potions from the doctors but never been able to get on with anything consistently. All either too greasy or doesn't soak in etc. We have been using O'Keeffe's for just over a week now and the results are amazing. There are just 10 days between the pictures.
Working outside in cold weather left my hands cracked, bleeding and I could hardly move them - I have brought many creams over the years that leave my hands greasy and don't really tackle the problem, but o'keeffes cream absorbs quickly and the cracks started healing themselves and didn't hurt any more. I can't recommend this product enough, I have also brought this product for several family members who are also very pleased with the product.
I work outside 365 days a year, i have horses . I have always suffered from very dry hands, especially my knuckles which crack and split and bleed, and are very painful. It is especially bad in cold weather, I think that I get winter eczema,if there is such a thing. I ordered this hand cream because I read all of the favorable reviews. I live in Denmark, the delivery time was very quick. I received this cream yesterday the 04-01-16 and immediately used it. I used it about 5 times yesterday, every time I washed my hands and also just before going to bed, I can say without a shadow of a doubt that this cream is excellent. Today 05-01-16 I have used the cream whenever I have been outside, in the stable, or my hands have gotten wet and my hands are now soft, not cracking, the knuckles on my fingers are not red and painful, not splitting or bleeding. The cream is white, and a strange consistency, it turns watery when applied and soaks straight in, no greasy feeling afterwards. A little of it goes a long way, but still this 96g pot won't be enough for me at the rate I use it...!! I will continue to use this every day and will definitely buy it again ...and very soon. I would like to be able to buy a bigger pot of it. I'm very impressed.
I have tried everything for my cracked heals. From creams from the doctors to soaking my feet in oils and nothing worked. I use this product three times and my feet look hundred times better. I do not write reviews but I have to mention this cream IT. IS. AMAZING!!!!!
My feet are too cracked and due to my busy schedule, I hardly get time to go for professional pedicure. I have tried many heel repair gels and creams, but nothing worked as per my expectation. So, I thought of finding something on Amazon and found this amazing foot cream. I went through the reviews and thought of giving it a shot. Honestly, it acted like magic for my cracked feet. After a use of three days only, I felt a major difference on my feet. The cracks are a lot better than before and most part of the foot is healed already. I assume that if I keep using this cream for some more time, I will get a soft and smooth feet.
Results verified with clinical studies.